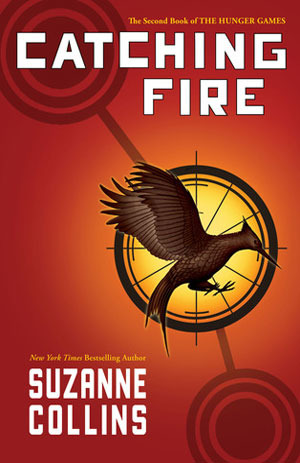 Genre: Fiction, YA, Dystopia, Fantasy, Science Fiction, Romance
Sparks are igniting.
Flames are spreading.
And the Capitol wants revenge.

Against all odds, Katniss has won the Hunger Games. She and fellow District 12 tribute Peeta Mellark are miraculously still alive. Katniss should be relieved, happy even. After all, she has returned to her family and her longtime friend, Gale. Yet nothing is the way Katniss wishes it to be. Gale holds her at an icy distance. Peeta has turned his back on her completely. And there are whispers of a rebellion against the Capitol – a rebellion that Katniss and Peeta may have helped create.

Much to her shock, Katniss has fueled an unrest she's afraid she cannot stop. And what scares her even more is that she's not entirely convinced she should try. As time draws near for Katniss and Peeta to visit the districts on the Capitol's cruel Victory Tour, the stakes are higher than ever. If they can't prove, without a shadow of a doubt, that they are lost in their love for each other, the consequences will be horrifying.

In Catching Fire, the second novel in the Hunger Games trilogy, Suzanne Collins continues the story of Katniss Everdeen, testing her more than ever before…and surprising readers at every turn.
After flying through the first book I immediately went on to this one…then finished it in like two days. I have a problem. I think the sign of a good book is when you get completely immersed in the story, you lose hours and completely forget any of your other responsibilities (e.g. revision). This totally happened with this book and it is one of the reasons why I love this series!
The book continues on from the first book (The Hunger Games), here we see how the act with the berries at the end of the first book was conceived as an act of rebellion in the Capitol and therefore President Snow is going to have everyone killed if Katniss can't convince the whole population that what she did was an act of love and that she can't live without Peeta…kinda difficult to do when you don't actually love the guy.
We follow the two lovers as they complete their victory tour throughout the districts, all the while trying to stop any signs of rebellion that they may have caused. However will it be enough to stop it or will anything they say just add fuel to the fire?
This story is so fast paced! You really cannot put the book down because you just have to know what happens next. The characters are so likeable (except Snow of course) but you feel almost as if you know them, you hurt when they hurt, you laugh when they laugh, it just makes it even harder when you see what they have to go through and what they are facing.
Just a warning if you do read this book be prepared to delve straight into the next one as this ends in such a cliffhanger that you absolutely have to finish the series right away to find out what has happened. I won't spoil it for you but I feel like you need some preparation so you weren't as shocked as me going into this and finding it out for myself!
Definitely another must read, I can read this series 100 times and it will still be as tense every time! One of my favourite series!
Rating: 5/5
Summing up: Fast paced and tense!