Another top 5 Wednesday! If you don't know what top 5 Wednesdays are you can check out the Goodreads group page here – they have topics for each Wednesday where you pick 5 books relating to that topic. This week's topic is authors you want to read more from. I have so many options for this! There are authors whose works I really enjoyed yet for whatever reason I haven't picked up anything else by them?! Therefore this list is also designed to show me that I really do need to read more because I love these authors!
5. Allie Brosh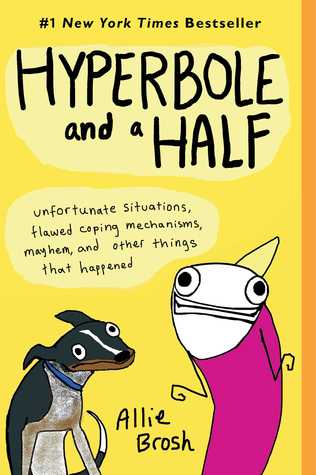 So I don't really find humour books that funny, they feel too forced to me. However this book was absolutely fabulous, I found myself genuinely crying with laughter at how funny this book was! Allie Brosh definitely knows how to make people laugh and I found out she's bringing out a new book this year! I must read this book! Her stories are ridiculously funny and they come accompanied by funny pictures to help you visualise what is happening, I think the pictures are half the fun here!
Definitely a must read if you like funny books and I definitely must read more by her!
4. Erin Watt
Ok I'm technically cheating here are Erin Watt is a combination two authors however I absolutely loved this book! It was definitely one of the best books I read last year! I was completely hooked all the way through and the ending was literally jaw dropping. This book is the first in a trilogy and yet for whatever reason I just haven't read it?! I need to read this series because the writing and the story are absolutely amazing and I cannot think of a single reason as to why I haven't read more of these books yet?!
3. Grady Hendrix
So I read Horrorstor last year and absolutely loved it! It takes a lot for me to be creeped out by a book, I never actually get scared by horror books because they are just so predictable however horrorstor was incredibly creepy! I actually found it difficult to sleep after finishing it which is very rare for me! Horrorstor was so unique and creepy that of course I loved it however I haven't even considered picking up any more of his works…why?! Definitely need to address this right away
2. Patrick Ness
A monster calls….such a beautiful book. I am not even ashamed to admit that I cried at this book. Although it is quite a short book it is still incredibly moving. Therefore if I enjoyed this one so much why haven't I read any of the others?! I literally have no reasons here.
I need to read more by him right now, I need to read more of this beautiful storytelling! NOW!
1. Markus Zusak
The book thief is my favourite book of all time. I will always love this book and its characters. However although I love the writing and the ability to make me cry I still haven't read anything else by Markus Zusak…why?! I have no explanation, I absolutely love him and his writing in this book so surely I must have read others by him right? Err no. This definitely needs to be rectified right now, I need more books to fall in love with!
There we have it! My top 5 authors I want to read more from. I can't actually believe that I found this topic so easy! I have 4 books on my "deserves more than 5 stars shelf" and yet I haven't read any more by any of the authors?! What is actually wrong with me? I love the writing of these authors so I will probably love the other books by them…I'm avoiding what is sure to be guaranteed happiness? WHAT?!
What do you think? Have you read any more by any of these authors? If so what should I read next from them? Let me know in the comments!