A top 5 Wednesday! If you saw my post on Monday you'll know that why I haven't been posting these past few weeks however I might be posting the catch up posts soon (though not on a Wednesday). This week's topic is the top SFF (science fiction and fantasy) books on your TBR. This is a similar post to the one a few weeks back which you can see here which was SFF books you've already read. The top 5 Wednesday posts are from a Goodreads group which you can find more about here.
The books I chose for this were the ones that I had most recently added to my Goodreads TBR shelf which were under the genre of Science Fiction or Fantasy. Find out more about these books by clicking the image to be taken to the Goodreads page.
5. Extreme Makeover by Dan Wells
This book is about a health and beauty company that develops a lotion that can overwrite your DNA. It is actively overwriting the DNA of anyone who uses it and turns them into physical clones of someone else. Governments see this as the world's greatest weapon and refuse to destroy it – at what consequences?
It sounds so interesting! Imagine being gradually turned into a clone to someone else with nothing that can be done. It sounds so terrifying! Definitely a must read!
4. Wintersong by S. Jae-Jones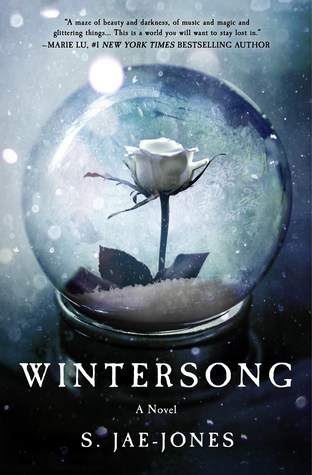 This is one of my most anticipated reads of the year and although it came out in February I still haven't read it!
Here we meet a young girl who has heard tales of a mysterious Goblin King, thinking nothing more of it she forgets him to concentrate on running the family inn. However her sister then gets taken by goblins and so she has to go on an adventure and rescue her. What price will she pay to get her sister back?
It's been so long since I read a good fairytale goblin story, this book sounds like a good old fashioned fairytale however for older audiences, I need to read this right now!
3. Norse Mythology by Neil Gaiman
Pretty much any book that involves Norse Mythology and is written by Neil Gaiman is immediately a must read! Gaiman is a master of fantasy so how could he not make it onto this list?
Here he creates a story revolving around Odin, Thor and Loki. Many people will be familiar with the story of these three from the many movies associated with Thor and Loki. However as always Gaiman puts his own twist on things and makes them even more mystical and definitely in the realm of fantasy. Definitely one to read if you love mythology, Neil Gaiman or both!
2. More than This by Patrick Ness
To be honest I knew absolutely nothing about this when I picked it up however it's Patrick Ness and was in a charity shop so I had to pick it up!
Here we have a boy who drowns then mysteriously awakens, naked and thirsty in a strange deserted place. Is it the end or is it life after death?
Not a lot to go on from Goodreads however apparently it is very moving and I do love a good book that can make me cry (which Patrick Ness has been known to do after A Monster Calls).
1. Cloud Atlas by David Mitchell
Again I don't really know anything about this one, I know it's a film and I'm pretty certain I've seen it before however didn't pay much attention to it. So many people recommend this and say it's a great book so I'm giving it the benefit of the doubt and reading it!
This book is about characters through various points in history and apparently they can change their destinies by hearing their echoes in history. Sounds interesting yet could be mildly confusing, I'll let you know when I read it!
So there we have it, my top 5 SFF books on my TBR. Like I said at the start these are just the last books I picked up that fall into the genres of Science Fiction or Fantasy. Most of them I got from charity shops and just recognised the titles/authors so I don't really know too much about them! I'm sure we've all been there!
What did you think? Have you read any of these? If so which one should I read first? Let me know in the comments!