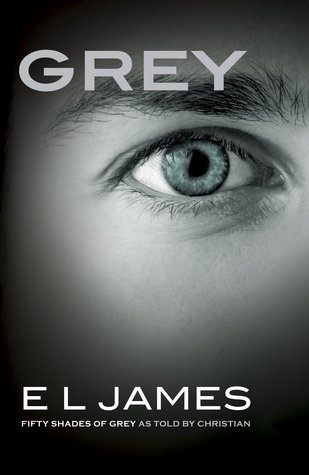 Genre: Romance, Chick Lit, Erotica
See the world of Fifty Shades of Grey anew through the eyes of Christian Grey.

In Christian's own words, and through his thoughts, reflections, and dreams, E L James offers a fresh perspective on the love story that has enthralled millions of readers around the world.

Christian Grey exercises control in all things; his world is neat, disciplined, and utterly empty—until the day that Anastasia Steele falls into his office, in a tangle of shapely limbs and tumbling brown hair. He tries to forget her, but instead is swept up in a storm of emotion he cannot comprehend and cannot resist. Unlike any woman he has known before, shy, unworldly Ana seems to see right through him—past the business prodigy and the penthouse lifestyle to Christian's cold, wounded heart.

Will being with Ana dispel the horrors of his childhood that haunt Christian every night? Or will his dark sexual desires, his compulsion to control, and the self-loathing that fills his soul drive this girl away and destroy the fragile hope she offers him?

This book is intended for mature audiences.
After my love (not) of the first 3 books I bravely decided to have some closure and finish the series. That and it was for a reading challenge. So here we are again, reading yet another 50 shades book (yay -.-), it can't be any worse that than the other three right?
This book is the exact same as the first book however it is from the point of view of Christian instead of Ana. This is because the publishers thought they could really cash in with this series, not but seriously did they really need to do the series again from a different perspective?
So I'm going to do this book review based on its own merit, not related to the other books in the series because I went into this thinking it was going to be dreadful so it didn't really have much hope.
In terms of the story it is dreadful however as the first book (50 shades of Grey) had the same story I cannot really judge it on this because E.L. James couldn't have improved the story for this book. That being said I don't think this book was that bad.
If you take out the story and how unnecessary this book was it wasn't that bad. It was interesting to read it from Christian's perspective as he was a very closed off person in the book and doesn't really say his true feelings.
It did make me see him in a slightly different light, although I still think he is controlling and abusive it made more sense as to why he was that way. We see more into his past and how he came to be this person. It was interesting to read and made Christian more relatable (well as relatable as you can be to a multi millionaire).
So in terms of recommending this book….well personally it isn't something I would recommend as the story is ridiculous and the whole thing does border on abusive. However if you did like the first three books then you will definitely enjoy this book. It did show a different side to Christian that I think a lot of readers wanted to see. If you didn't like the first book then you won't like this because it is literally the exact same story. However don't just write the book off because it is another 50 shades book. I pretty much did that and so was surprised to find that I liked seeing the more fonder side of Christian.
In terms of rating this book it is difficult. For the story a 1 star however in terms of the book and the POV of Christian I liked it. Therefore I'm giving this a surprising 3 stars. I wouldn't read it again however it was interesting to read it for a different side to Christian so in terms of that alone I am giving it this rating.
Rating: 3/5
Summing up: A view of the fonder side of Christian Grey