I'm back! If you read my post 2 weeks ago you'll know that I couldn't partake in last weeks top 5 Wednesday as I haven't read any graphic novels! I realise this is a massive gap in my reading and am definitely going to make it a challenge next year to read more of this genre. However this week I am back with my top 5 books to get you out of a reading slump! I have tried to put a variety of genres in here so there's something for everyone!
5. Coraline by Neil Gaiman
A film that pretty much everyone has heard of and is well known for how creepy it is. The book is just as creepy if not worse, it is written for children however definitely comes under the horror genre. It is a short read of less than 100 pages so you will absolutely fly through it. Definitely recommended for horror fans who want a short read to get them out of a reading slump but don't want any 600 page Stephen King books to get them the creepy feel.
4. Horrorstor by Grady Hendrix
Sticking with the horror genre, this book is one of my absolute favourites. It is again remarkably creepy, think Saw but with ghosts and IKEA. Yes it is different, yes it it incredibly creepy. There are parts of this book that will make your skin crawl and you may even want to take a step back and think wow that's creepy. It is a little longer than Coraline however this definitely is not a children's book and should definitely only be read in the daytime in the light with people around you. You have been warned!
3. The Master by Tara Sue Me
Ok so maybe the horror genre isn't for everyone, you're still in this reading slump with no idea what to do. You're upset because Valentine's day is over, the new 50 Shades film is dreadful and you've ran out of discount chocolates….this is the book you need. Although the erotica genre has such a big stigma attached to it I would definitely recommend this book. Think 50 shades of Grey but with an actual loving relationship. Think caring and love instead of abuse. Although this book is number 8 in the series you can definitely pick it straight up and get it into the story, that's what I did and although it is part of a series this is like a whole new story focusing on two characters so you won't miss much starting it here. Definitely one if you're spending a night in alone with another box of chocolates you'd forgotten about.
2. Paper Princess by Erin Watt
Another one of my favourites that I absolutely flew through. Drama, drama and more drama. Think Gossip Girl meets Cinderella. This book is packed full of drama and has such a jaw dropping ending. It is absolutely brilliant, if you are a fan of gossip or high school drama then you will love this book. We have a sassy main character who says exactly what she thinks and knows how to play things to her advantage. Definitely a book if you like romance, tension and have I mentioned there's a lot of drama?
1. Hyperbole and a Half by Allie Brosh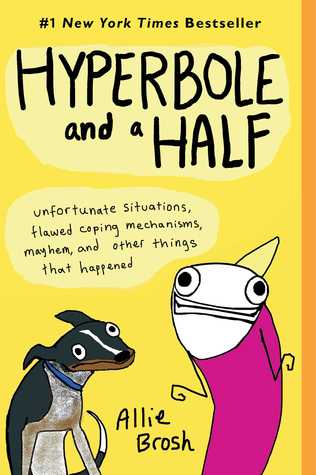 Finally my number one book! This is the only book I can remember that actually made me laugh out loud. There are short stories and each one is ridiculously funny. Normally these comedy/humor books I find aren't actually that funny however this one I would definitely recommend. There are some difficult topics such as depression however Allie puts a funny twist on things and makes them so relatable! Definitely one to read if you're feeling a little bit down. You will fly through it and find it funny aswell!
So there we go, my top 5 books to get you out of a reading slump. I tried to get a wide variety and I hope I achieved that! Are you in a reading slump? Which books do you think will help? Have you read any of these books and agree with me? Let me know!