Another Wednesday therefore another t5w! If you don't know what the top 5 Wednesday thing is check out the goodreads group here! This weeks topic is…. Books you want to finally read in 2017. However they aren't upcoming releases, they are older books which have been sat on your TBR for a while. For this list I have chosen the top 5 books which have been on my Goodreads TBR shelf the longest that I still really want to read, although they all may not be the oldest on the list they are still pretty old and I still really want to read them.
5. The Silence of Ghosts by Jonathan Aycliffe
When the Blitz starts in London, Dominic Lancaster, injured out of service at the battle of Narvik, accompanies his 10 year old sister Octavia to the family house on the shores of Ullswater in the Lake District.

Octavia is profoundly deaf but at night she can hear disturbing noises in the house. When questioned by Dominic as to what she can hear, she replies: 'voices'. Two nights later she comes into his bedroom to tell him that the dead children in the house want them to leave.

And then Octavia falls mysteriously ill… during her sickness she tells Dominic he must go to the attic. There, he releases an older, darker evil that threatens the lives of Olivia and himself.
This isn't a very well known book, at least of what I've seen, also it has been on my TBR since forever so I feel like it deserves an honourable mention. I love stories about creepy houses and this one sounds unbelievably creepy! I cannot wait to read this one and I don't know why I haven't read it yet.
4. It's Kind of a Funny Story by Ned Vizzini
Ambitious New York City teenager Craig Gilner is determined to succeed at life – which means getting into the right high school to get into the right job. But once Craig aces his way into Manhattan's Executive Pre-Professional High School, the pressure becomes unbearable. He stops eating and sleeping until, one night, he nearly kills himself.

Craig's suicidal episode gets him checked into a mental hospital, where his new neighbors include a transsexual sex addict, a girl who has scarred her own face with scissors, and the self-elected President Armelio. There, Craig is finally able to confront the sources of his anxiety.

Ned Vizzini, who himself spent time in a psychiatric hospital, has created a remarkably moving tale about the sometimes unexpected road to happiness.
I think this one has recently become a movie, I recognised the title and found that it has been sat on my TBR shelf forever! I think I added it onto my Goodreads shelf in 2014?! So this is definitely one that I want to pick up in 2017 so that I can watch the film and compare the two!
3. The Secret Life of Bees by Sue Monk Kidd
Set in South Carolina in 1964, The Secret Life of Bees tells the story of Lily Owens, whose life has been shaped around the blurred memory of the afternoon her mother was killed. When Lily's fierce-hearted black "stand-in mother," Rosaleen, insults three of the deepest racists in town, Lily decides to spring them both free. They escape to Tiburon, South Carolina–a town that holds the secret to her mother's past. Taken in by an eccentric trio of black beekeeping sisters, Lily is introduced to their mesmerizing world of bees and honey, and the Black Madonna. This is a remarkable novel about divine female power, a story women will share and pass on to their daughters for years to come.
Yet another book which is a film (although not a new film), the only reason I haven't read this book is because the physical copy I have isn't in the best quality (it was bought 2nd hand) and although this is a really poor reason to have not read it I tend to go for the nice shiny new books which I have. Sorry little guy, I'll get to you next year… hopefully.
2. An abundance of Katherines by John Green
Having been recently dumped for the nineteenth time by a girl named Katherine, recent high school graduate and former child prodigy Colin sets off on a road trip with his best friend to try to find some new direction in life.
After reading the Fault in Our Stars a few years ago I immediately added the rest of John Green's books to my TBR to see if they were as good and heart wrenching as the first. However I read Looking For Alaska by him and it didn't really suit me, I didn't like it at all and that put me off his books a bit. However I am willing to give him another try in 2017 and hopefully this book will be as good as The Fault in Our Stars.
1. Fangirl by Rainbow Rowell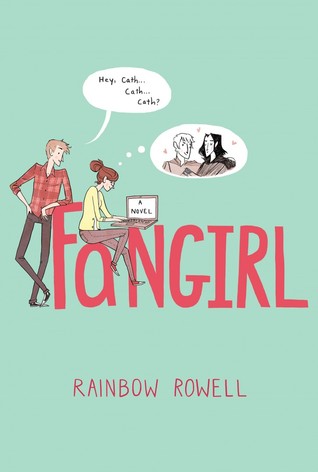 A coming-of-age tale of fan fiction, family and first love.

Cath is a Simon Snow fan.

Okay, the whole world is a Simon Snow fan…

But for Cath, being a fan is her life—and she's really good at it. She and her twin sister, Wren, ensconced themselves in the Simon Snow series when they were just kids; it's what got them through their mother leaving.

Reading. Rereading. Hanging out in Simon Snow forums, writing Simon Snow fan fiction, dressing up like the characters for every movie premiere.

Cath's sister has mostly grown away from fandom, but Cath can't let go. She doesn't want to.

Now that they're going to college, Wren has told Cath she doesn't want to be roommates. Cath is on her own, completely outside of her comfort zone. She's got a surly roommate with a charming, always-around boyfriend, a fiction-writing professor who thinks fan fiction is the end of the civilized world, a handsome classmate who only wants to talk about words… And she can't stop worrying about her dad, who's loving and fragile and has never really been alone.

For Cath, the question is: Can she do this?

Can she make it without Wren holding her hand? Is she ready to start living her own life? Writing her own stories?

And does she even want to move on if it means leaving Simon Snow behind?
I'm ashamed to admit I've never read this book, I kept trying to read it but another book was always more tempting. Also everyone says it's brilliant which means I have really high hopes for it, last time I had high hopes for a book it was dreadful so I'm a little apprehensive going into this however I will try and read it in 2017!
So there we go, my top 5 books that I want to read in 2017 that aren't already included in my reading challenge for the year (which I will post closer to the end of the year). Have you read any of these books? If so what did you think? Also what are your top 5 books that you want to read in 2017? Let me know!