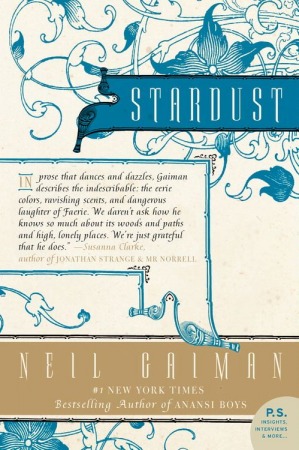 Genre: Fiction, Fantasy
Young Tristran Thorn will do anything to win the cold heart of beautiful Victoria—even fetch her the star they watch fall from the night sky. But to do so, he must enter the unexplored lands on the other side of the ancient wall that gives their tiny village its name. Beyond that old stone wall, Tristran learns, lies Faerie—where nothing, not even a fallen star, is what he imagined.

From #1 New York Times bestselling author Neil Gaiman comes a remarkable quest into the dark and miraculous—in pursuit of love and the utterly impossible.
This is an absolutely beautiful book! The story is so magical and beautifully written. Being totally honest I did not know this was a book, I know and love the film so was slightly apprehensive going into this book.
Although the stories are similar I would definitely recommend the read, there are some slight differences between the book and the film so don't go into this like I did thinking it would be the exact same.
The story is amazing, I know most fantasy books are supposed to be magical however this book was so much more, the writing made the story so vivid, I felt like I was actually on this adventure with Tristan. The story (for those who do not know) focuses on a young boy who is in love with a girl (like every other story basically), to prove his love to her he offers to find her a fallen star. Thus he ventures into a magical world with talking creatures, witches, pirates and princes to receive this fallen star for his love. Will he complete his quest and win her hand in marriage or will something intervene?
I cannot give this book enough praise, I loved it! I would definitely recommend it to fantasy lovers. Don't base the book from the film as they are nothing alike, they even have different endings so don't feel like the ending has been spoiled for you. There are definitely a few surprises in store for you!
This was a very quick read for me (even with everything going on) because I just flew through the pages as I was so caught up in the story, I wanted to read about the next stage of the journey and what would happen to Tristan and the star. It was an amazing read and definitely one that I think everyone should read if they are a fan of the genre and one to read if you are just getting into a magical world, this is magical however it is so vivid it almost seems as if this magical world could exist much like Hogwarts in Harry Potter.
Rating: 5/5
Summing up: A beautiful fantasy