Today marks Roald Dahl's 100th birthday (if you hadn't grasped that from the title of this post), therefore this also makes it Roald Dahl Day! This means that there's parties and book readings all round! Eat all the cake!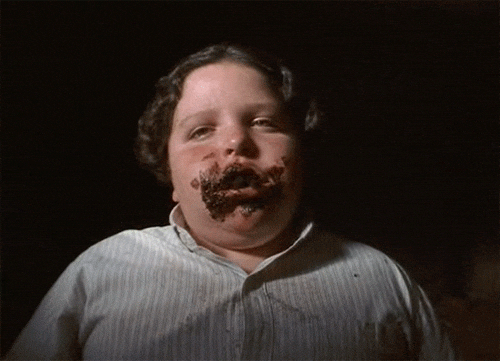 Ok so maybe not that much cake
To celebrate this occasion I'm recapping what I think are the top 5 books written by Roald Dahl.
5. Charlie and the Chocolate Factory
Here we have probably the best known Roald Dahl book, it has been made into two films both of which were immensely popular. It is about a young boy called Charlie Bucket who finds a golden ticket to tour around the inside of Willy Wonka's chocolate factory. A place which nobody has been seen entering or leaving in years. Inside is a complete mystery and full of adventure! This book is just brilliant it is full of vivid imagery and I think every child (and most adults) would love the chance to explore this famous factory, especially the room where absolutely everything is edible! Even though it is probably the most popular it is at 5 on my list as the songs by the Oompa Loompas did become a bit drawn out for me however it is still a brilliant book and a must read for children of all ages!
4. James and the Giant Peach
Yet another great book which has also been turned into a film! This book is about a young boy who is treated dreadfully by his Aunts, he is then given a bag of beans (dried crocodile tongues if I remember correctly) and these cause a giant peach to grow! Inside it are a variety of insects who also got affected by the beans (tongues), they can now talk and have become huge! The peach then rolls away with them all inside it and an adventure ensues! Another brilliant book, it did have some issues I believe when it first came out and it might even have been banned! However I still think it is an amazing book, the adventure is brilliant and you really do feel captivated with the story. Also it isn't very long so you fly through it in one sitting!
3. The BFG
I wouldn't like to say how many times I have read this book. My copy is in such bad condition from the amount of times that I have read it that I think the actual cover is coming off! This is another brilliant book! It starts off with the BFG (big friendly giant) who collects dreams, however there are nasty giants who eat children and they need to be stopped! Another book that was made into a great film (and has recently been made into a live action film), it is so magical with the idea of a giant giving us nice dreams instead of nightmares. He then meets a young girl who vows to stop the nasty giants and enforces the help of the Queen to stop them! It is a brilliant book that you cannot get sick of reading. If you watch the film it has a really catchy song which gets stuck in your head and you will be singing it for days whether you like it or not!
2. The Witches
Oh my goodness this book. It terrified me yet at the same time I loved it! When I first read this book I was at that age when witches on broomsticks seemed a little silly, that is when I was introduced to this where I learnt that witches can look like you or me, only if you know the signs can you spot a true witch. So for a few years of my childhood I went round accusing any woman of wearing gloves of being a witch! This is a brilliant book that I don't think is just a children's book, I would happily still read this now and still become as suspicious as when I was a child! It is definitely one of my favourites and I think everyone should read it so that they can know all the signs of what a true bad witch looks like so they can be prepared if they get approached by one! So if you've never read this book before well…
1. Matilda
This is an amazing book! Again it is known for the film (this is now a recurring theme with all the Roald Dahl books I've mentioned). However the book is just as good as the film if not better. It follows a young girl, her parents want nothing to do with her so to fill her time she teaches herself to read and every day while her family are out she goes to the local library and reads. Just a fairly normal story….except she's four. A must read for all book lovers everywhere, Matilda is the ultimate book lover. I really did love this book, it will never get old and so many people can relate to Matilda's love for books (if not her home situation), therefore I think this book will be around for many more years and will be loved by generation after generation. It definitely deserves number one on this list.
So there you have it. My top 5 books to celebrate one of the greatest children's authors ever to have lived. I don't think his books will ever get old as they are just so imaginative and both children and adults alike love the stories so I am sure they will be around for many generations.
I hope you enjoyed this list. What is your favourite Roald Dahl book?