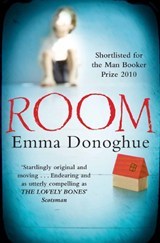 Genre: Fiction, Adult, Contemporary
It's Jack's birthday and he's excited about turning five. Jack lives with his Ma in Room, which has a locked door and a skylight, and measures 11 feet by 11 feet. He loves watching TV but he knows that nothing he sees on screen is truly real. Until the day Ma admits that there's a world outside.
I wasn't really expecting much going into this book, I knew it was written from the perspective of a 5 year old so I was expecting the book to be boring and close minded.
However it was so much more, I really enjoyed hearing about how the daily lives of Jack and Ma played out, how they survived on so little and how they kept themselves entertained and happy even though they were confined to the one room.
The first half of the book can get a little repetitive however you have to remind yourself that it is a book about one room, how much excitement are you actually expecting to get out of it? The second half of the book is amazing and I flew through it in one sitting.
There are various views on the writing, some people have said the voice doesn't sound like a child at all, others have said Donoghue has captured it perfectly. I personally am in the latter category, I think that if a young boy were retelling his daily activities then this is how it would be, he wouldn't be able to explain why his Ma is in bed all day, just that she is "gone" and will probably be back tomorrow. He only knows what his mother has taught him and this is entirely to be expected from a child who has grown up only knowing that one adult. Also remember his mother was only young when she was put into the room so she obviously will not know everything there is to know at that age. I think the character adapts pretty well and I think Donoghue has really thought about what it would be like, how to make do with next to nothing etc.
Other than knowing that it is about a single room with a mother and son I think it's best to go into this blind. The first half of the book can be a little repetitive however it builds the story of what it is like for the two of them so I'd say stick with it because it will get better.
There are many stories about women being locking in isolation and being abused however as this is told through the eyes of a child it makes the story so much more interesting. At the age of 5 Jack is too young to understand what is happening, however the way he describes it is to innocent in his mind, the reader is aware of what is happening however Jack isn't and it's interesting to read because it is described in such a way that does resemble a child's voice and I think that's what makes this such a poignant read.
I really did enjoy this book more than I thought it would, if you are going into the book the first half can be a little difficult to get through with the repetition of the days however it is needed to show the reader what life is like in the room. Without giving a spoiler I can't say what happens in the second half however it is amazing to read and see how the characters do develop. I would definitely recommend this book!
Rating: 5/5
Summing up: A harrowing read from a different point of view