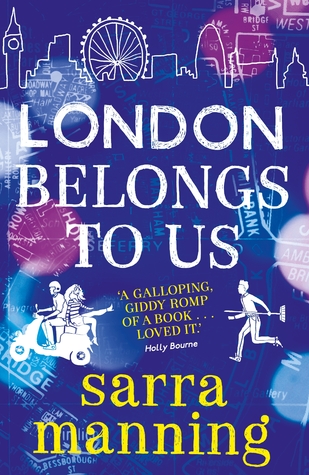 Genre: Young Adult, Contemporary, Fiction, Romance
Seventeen-year-old Sunny's always been a little bit of a pushover. But when she's sent a picture of her boyfriend kissing another girl, she knows she's got to act. What follows is a mad, twelve-hour dash around London – starting at 8pm in Crystal Palace (so far away from civilisation you can't even get the Tube there) then sweeping through Camden, Shoreditch, Soho, Kensington, Notting Hill . . . and ending up at 8am in Alexandra Palace.

Along the way Sunny meets a whole host of characters she never dreamed she'd have anything in common with – least of all the devilishly handsome (and somewhat vain) French 'twins' (they're really cousins) Jean Luc and Vic. But as this love-letter to London shows, a city is only a sum of its parts, and really it's the people living there who make up its life and soul. And, as Sunny discovers, everyone – from friends, apparent-enemies, famous bands and even rickshaw drivers – is willing to help a girl on a mission to get her romantic retribution.
*Received as an ARC from Netgalley*
The book starts with Sunny's mum going away for a week and she's left her a note explaining what to do in the event of an emergency, where the emergency money is kept, who to call if something happens etc. I thought this was funny because it reminded me of my parents when they went on their first holiday alone, I thought I was old enough and brave but then thought we were being burgled at 4am the first night and ended up getting pretty much no sleep all week! So this was a totally relatable note and instantly I figured I was going to enjoy this book.
The story then moves on to the main character Sunny and her friend going out and Sunny receiving a picture of her boyfriend kissing another girl. She then decides that she is going to confront him about the photo…and ends up travelling all around London throughout the night to try and find him.
When I first read the description of this book I thought it was going to be a bit of a stupid story…a girl going around London in the middle of a night? Yeah that sounds safe and realistic. However having read the book it's not as bad as it sounds, Sunny ends up basically going on a night out and to different clubs and parties around London trying to find her boyfriend.
Sunny is a very likable character and I really enjoyed this book! I wasn't too sure on it at first (although I did love the mums note) however it seemed a bit too childish because it is a bit stupid to go around London in the middle of the night but the book isn't like that, it is just like a regular night out except Sunny keeps getting stood up by her boyfriend at each place so moves on to where he is so that she can confront him.
It is a very easy and light-hearted read, perfect for someone who has been cheated on or has just come out of a relationship – Sunny may be a pushover at the start but she is a force to be reckoned with at the end.
The only downside to this book is that halfway through it did get a bit repetitive, Sunny would go somewhere, Mark wouldn't be there, she would leave to go to where Mark is. As I was reading it I did start to get a little bored however at the end I think that going to all the different places was necessary because it really showed all the different areas of London and the different people in each area.
I would recommend this book, like I said it is a light-hearted read about relationships – romantic, friendships and the love of a city.
Rating: 4/5
Summing up: Good light hearted read