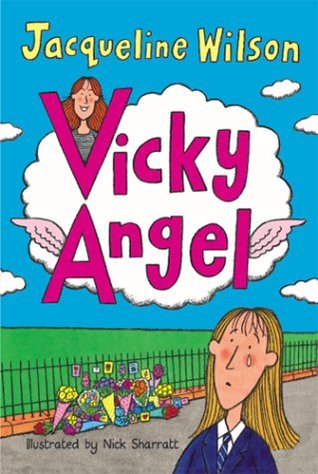 Genre: YA, childrens, fiction, teen, fantasy
'You look as if you've seen a ghost!'

Jade is so used to living in the shadow of Vicky, her loud, confident best friend, that when a tragic accident occurs, she can hardly believe that Vicky's no longer around. But Vicky's a sparky girl who's not going to let a small thing like being dead stop her from living life to the full! Whether Jade is in lessons, out running or tentatively trying to make new friends, Vicky is determined to make her presence felt . . .
Vicky Angel is about a girl named Jade who loses her best friend in a car crash, however because they were so close Vicky comes back as an angel. This book attempts to deal with the difficult themes of bereavement, grief and guilt.
Before Vicky dies she has an argument with Jade, after the accident she frequently visits Jade however she will not allow Jade to move on and make new friends.
Jacqueline Wilson was one of my favourite authors when I was a child. She was my childhood idol and so naturally as soon as this book came out I had to read this. I think only Jacqueline Wilson could explore this difficult theme in a child's book and get away with it, she does it lighthearted enough so its ok for children however she still manages to go into the emotions that come when someone loses a close friend. It realistically approaches the subjects of grief and death which normally aren't covered in children's books however Wilson does it so well.
The story was very moving, it allows the reader to relate to the situation very easily. You really feel for Jade and what she is going through, you don't need to have been through that situation to understand what she is going through, Wilson manages to give a vivid description of the feelings that Jade is going through.
This book is engaging and nicely written, it is a good story for children/ teenagers who may be going through something similar to this. Even if you're not going through something like this it is still a good read. I would recommend it to YA/ young teens.
I really enjoyed this book as it is quite unusual for a children's book to deal with this topic however Wilson does it so well that the death is almost lighthearted, if that is possible, its not a normal depressing book about death. Wilson manages to put her own spin on it and make it an acceptable childrens book.
Rating: 4.7/5
Summing up: Different take on such a difficult topic