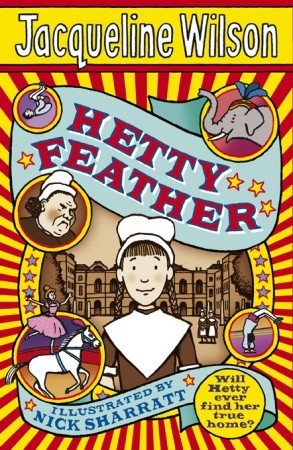 Genre: Childrens, Historical Fiction, YA
London, 1876. Hetty Feather is a tiny, fiery-haired baby when her mother leaves her on the steps of the Foundling Hospital.

Sent to live with a foster family in the country until she is big enough to go to school, Hetty plays vivid imaginary games with her foster brothers. Together they sneak off to visit the travelling circus, and Hetty is mesmerised by the show – especially the stunning Madame Adeline and her performing horses.

But Hetty's happiness is threatened when she must return to the Foundling Hospital to begin her education. The cruel matrons' strict regime is a terrible struggle for Hetty, and she desperately misses her beloved foster brother, Jem. But now she has the chance to find her real mother. Could she really be Madame Adeline? Or will the truth be even more surprising?
Set in 1876 Hetty Feather is abandoned by her mother at the Foundling Hospital. Before she is old enough to go to school she must first live with a foster family – her 'brothers' Jem and Gideon. She spends her time helping in the fields and playing imaginary games, she visits a travelling circus where she is mesmerised.
However she has to return to the Foundling Hospital, this consists of awful uniforms and terrible food, she is treated poorly. However now she has the chance to find her real mother – is it the amazing woman that Hetty was mesmerised by from the circus?
Yet another amazing book from Jacqueline Wilson, she is world renowned for her children's books and this one is no different. She takes an original story – a girl growing up in the Victorian era – and transforms it into something magical. She also introduces us to a brand new character – fans of Tracy Beaker will love Hetty Feather, she has the same feistiness and is just as bubbly, however Hetty has the challenge of being from the Victorian era.
This book is amazing and is sure to thrill all those who read it. It is a warm and moving tale of a young girl however it is totally fascinating and you will not want to put it down. You can really empathise with Hetty, stuck in the orphanage trying to find what could possibly be her mother. She suffers so many hardships – the chores along would be enough for me! However she still manages to carry on and never loses faith. A heartwarming tale that will keep you wanting more.
This book is brilliantly written and children will love it, I would recommend this book to children/young teenagers. If you love historical fiction then you will love this story. Jacqueline Wilson did a book set in a similar time to this with The Lottie Project, therefore if you were a fan of that then you will definitely love this book.
I remember reading this book when it first came out, I absolutely loved it and cannot put it down. I do remember thinking that I was a little disappointed in the ending because it felt as though her story wasn't finished – since that though Jacqueline has released more books and turned it into a series, therefore more Hetty Feather! So maybe the ending was left like that purposely so that the series could continue, however since I read it when it first came out I was not aware of any more books being made for the series!
Rating: 4.7/5
Summing up: Amazing